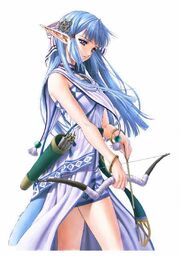 Siena is a wise elf. She lives in Tel Albim kingdom<homeland of the elves>. She is lonely because of what happen to Tel Albim about 20 years ago. The kingdom was attack by Blackthorn soldiers. Her parents and the remaining elves hide in the heart of the forest. After the conquering of Tel Albim the elves went back, they saw the ruins of Tel Albim and many of their people died. So the remaining elves journey to the west were are people are free from war
Ad blocker interference detected!
Wikia is a free-to-use site that makes money from advertising. We have a modified experience for viewers using ad blockers

Wikia is not accessible if you've made further modifications. Remove the custom ad blocker rule(s) and the page will load as expected.